WELCOME WHERE EVERYTHING STARTED: THE RYNA CUSTOM BALLET SKIRT!
Here you can find a wide range of beautiful, colorful and patterned fabrics that are the result of research during my various annual trips to italy. What you have to do (for wrap Ryna ballet skirt) 
is to:
- choose your favorite fabric;
- select the length (S, M, M/L, L);
- select the waistband color;
The ballet skirts are tied with an elastic band, which can be black or flesh, because of it your ballet skirt will stay firmly on your waist during ballet classes and rehearsals.
Ballet skirts length: 
Small (front 28 cm, back 36 cm); 
Medium (front 33 cm, back 38 cm); 
M/L (front 36 cm, back 64 cm); 
L (front 42 cm, back 62 cm)
Signoryna and Double-face ballet skirts need waist and hips measurements!
IF YOU WANT TO READ ABOUT THE STORY OF RYNA'S BALLET SKIRT AND THE SELECTION OF HIS CUTS
CLICK HERE.
If you want to know more about fabric, please check the Fabric Chart or feel free to write me.
The elastic's girth is one size (2 meters), if you think it is not enought for your waist/hips just write to me before the order.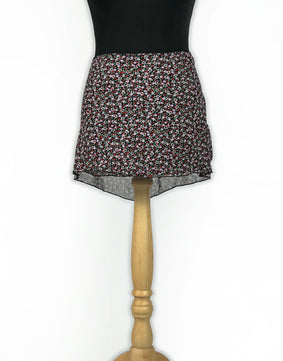 Wild Romantic
Baby's Breath
Tulip
Like in a painting (light)
Roses
Snow Flakes
Black Garden
Pois
Pink Pois
Field of Flowers
€25.00